New Release 29th March 2022!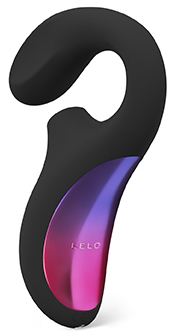 The LELO ENIGMA™ Cruise is LELO's latest dual vibrator and it is amazing! It is made to induce a blended G-spot and clitoral orgasm, which is the holy grail of all sexual pursuits. Afterward, anything less feels like something is missing. The ENIGMA™ Cruise features Cruise Control™ technology that ensures no drop in intensity when you press it hard against the body for an intense, deep release. Now you'll get to experience one blended orgasm after the other, evolving to a new level of sexual wellness. This vibrator is definitely a game changer and we know that you will love it!
After last year's sweeping success of the now legendary LELO Enigma Sonic Clitoral & G-Spot Massager, it's time we introduce you to LELO ENIGMA™ Cruise! Featuring eight pleasure settings and a completely waterproof design, ENIGMA™ Cruise simultaneously titillates the clitoris and the G-spot, leading to a powerful blended orgasm.
The ENIGMA™: Cruise is the latest innovation in sexual pleasure. This unique massager uses sonic waves to stimulate the entire clitoris, along with powerful vibrations for G-spot massage. The result is a deeper and more intense sensation that will leave you wanting more. The premium silicone absorbs the sonic waves and transmits them to your clitoris for a deeper but gentler sensation. The inner part of the massager vibrates in sync with the outer part, providing targeted stimulation to your G-spot. The result is a truly unique and intensely pleasurable experience. Whether you're using it for solo play or with a partner, the ENIGMA™: Cruise is sure to take your sexual encounters to new heights.
Highlights of the LELO Enigma Cruise
SENSONIC™ TECHNOLOGY
Unlike other vibrators, the ENIGMA™ Cruise does not require direct contact with the clitoris, making it ideal for those who are sensitive or prefer not to have direct stimulation. The sonic waves offer a deep, throbbing sensation that is sure to please.
DOUBLE AROUSAL
The quickest way to double your pleasure is to simultaneously stimulate the clitoris and G-spot. The visible part of the clitoris, the glans, is typically what receives direct stimulation during sex. But the clitoris extends far beyond the glans, with "legs" or "roots" that extend down either side of the vulva. This double arousal will lead to deeper and longer-lasting orgasms. And who doesn't want that?
CRUISE CONTROL™
The massager automatically increases its intensity when pressed hard against your body for controlled and consistent pleasure, every time.
Cruise Control™ Technology
What truly separates ENIGMA™ Cruise from the previous generation and all other vibrators to date, is the introduction of patented Cruise Control™ technology. Especially developed by LELO. It reserves 20% of ENIGMA™ Cruise's power when you decide to press it harder against your body, unleashing it just before the blended orgasm comes. It's not a setting, it's completely automatic, and it eliminates the single most common complaint against pleasure products.
How to use the LELO Enigma Cruise
STEP 1
Apply LELO Personal Moisturizer on the clitoral and vaginal part of the toy for enhanced pleasure.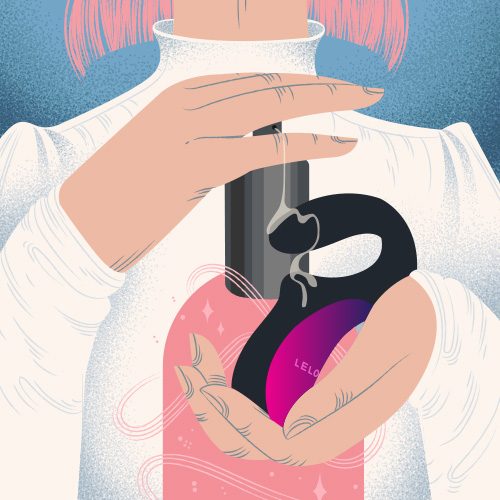 STEP 2
Adjust the vaginal end in place, not too deep, then adjust the clitoral end before turning on the power.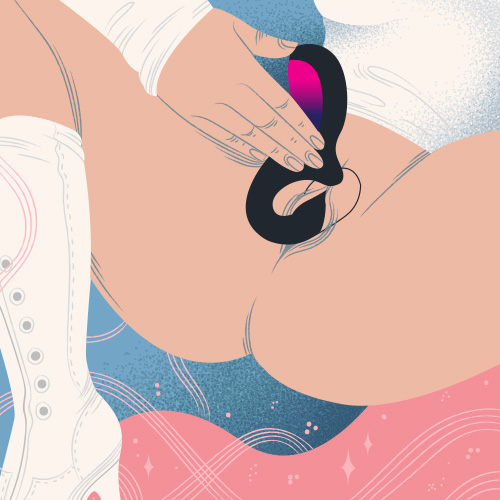 STEP 3
Press + button to turn on; start at the lowest speed and increase vibration and mode as you wish.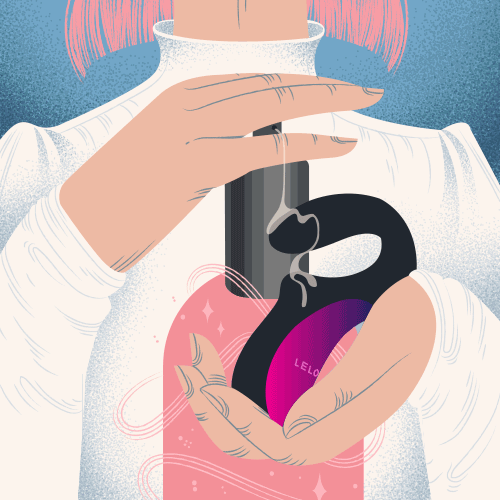 Specifications
Material:

Body-safe silicone, ABS plastic
Interface:

3-buttons and 2 LEDs
Switch off:

Automatic after 20 minutes
Frequency:

60 Hz / 100 Hz
Battery:

Li-lon 850 mAh 3.7 V
Standby time:

Up to 90 days
Size:

100 x 50 x 185 mm / 3.9 x 1.9 x 7.3 in
Insertable length:

140 mm / 5.5 in
Weight (only product):

196 g / 0.43 lb
Hawttt Product ID:

176599
Endless Orgasmic Possibilities
Vibrate yourself to another world with ENIGMA™ Cruise's sonic waves. The indirect stimulation of their proprietary technology will have you coming in no time! The ENIGMA™ Cruise represents a colossal revolution in sexual wellness, capable of profoundly transforming your self-love routine.